2023 NRCC
DAY OF CHAMPIONS
https://mrdpigeonsupplies.co.uk/?fbclid=IwAR0VThw75Vv00ov_-wOUPHwvTGo4SKVjXDoco4dyEespEvtmlfDbziGFwXEWe are all aware that the club is not a 'National' we are indeed reminded of it enough times but we are a 'classic club, specialist club call it what you will but we race for the King George V Cup and was founded in 1901, now that is some-thing to be proud of, and there is more if you do win the Kings Cup you receive and exact hand crafted solid silver replica of it to keep and the Day of Champions is yours with all proffits going back to the club, so if you are travelling by car and have a spare seat bring a friend!
The'NRCC Day of Champions' is back at the 'Springfields Event Centre' at Spalding on Saturday 25th November when we will celebrate our 2023 winners. By now all of the section and open winners will have received their request to bring along their winners for them to be displayed on the Champions Row 
The Event Centre is situated at the Springfileds Shopping Outlet home to over 70 high street retail outlets. Reaching the event is fairly straight forward, from the north, follow the brown signs to Springfields and from the south turn off the A1 at Stamford and take the A16 East to Spalding. Follow the brown signs to Springfields. If you are travelling using a satellite navigation system our Sat Nav postcode is PE12 6E
The day is more than the distribution of trophies and of course your prize money. This is a day where the whole club can come together our usual sponsors will be present with a trade stand others include Body and Ridewood, Pigeon Testing Centre, Bamfords, Pigeon Botanicals, TMP Breeding Stud, Gold Bird Products, STS Lofts, Beyers, Who Dares Wins One Loft Race, Heart of England Auctions, Red Hill Farm Lofts, AIDI Pigeon we are awaiting confirmation of other trade stands and these will be updated soon.
Klaus and Hugo from Geraldy will not be in the hall but we will have the transporter and trailer in the hall and our convoying team on hand to answer any questions you may have.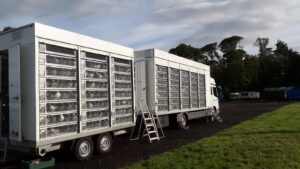 The NRCC have their own 'Transport x' which is put together for us by 'Bamfords Top Flight' so I was quite surprised this year when I saw in the Vanrobeays range of corn their 'Transport Mix'. The amount of positive feed back from people commenting on the condition of their birds on return from the time spent in baskets is when in the club's charge is most appreciated, as I say our convoying team will be on hand so call by and take a look at the 'NRCC Transport Mix'
If you are not a member come along and see what this great club is about and members this your opportunity to come along and talke to the committee and out across what you would like to see happening with the club.
Should you wish to take advantage of a free trade stand be it to sell a few birds or present your product to market please feel free to contact me on 07739 57116